The cables which are designed for use in wet ground or under water, with types specialized for pump environmental conditions is known as Submersible Cable. The Cable needed for this type of application must be durable and reliable as the installation location and environment can be extremely preventive as well as aggressive. Our cable manufacturers keep these factors in mind to achieve the highest possible degree of reliability. The size and shape of submersible cable can vary depending on the usage and preference and pumping instrument of the installer. The conductors are often color-coded for identification and an overall cable jacket may also be color-coded.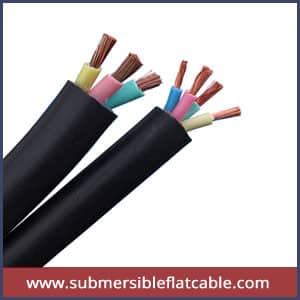 We are the most preferred distributor, supplier for Submersible Flat Cable in India. Our offered products are designed such that they can be used for cabling even in constricted space with tough conditions. These are made with the high grade materials in compliance to the norms of the industry.
Their qualitative make with the most modern methodology, examining and verifying quality at every stage of the production. The finely stranded copper conductors of our Heavy duty cables have excellent flexibility as well as strength. The cables have excellent resistance to oils & grease, chemicals, impact & abrasion as well as weather.
Our cables are chosen for their excellent electrical properties. These are trusted and applied in industrial cabling, for agriculture as well as sewage pumping. Our Submersible Flat Cables are tested and confirmed for their quality and we offer them at very affordable prices.
Features of Flat Submersible Cables
The cables are long lasting and high performing
Having the ability to resist moisture, grease and abrasion
Built with high quality wet electrical features
Sturdiness and highly efficiency
Temperature range – 40 degrees C to 105 degrees C
Posse's conductors with formulated PVC compounds
3 CORE FLAT CABLES FOR SUBMERSIBLE PUMP MOTORS
The offered 3 Core Flat Cables for Submersible Pump Motors supplied by us are highly demanded in the market for applications that call for unlimited immersing into the water. As cables are made with qualitatively in compliance to the norms of the industry, using the utmost contemporary technology and high grade materials. These are designed to attain high functionality along with reliability and safety. They are also quality tested and verified and therefore are guaranteed for their perfect make. 'Polycab Special'. 3 Core Flat Cables are produced from best quality electrolytic copper, which is drawn, annealed on-line and bunched on automatic machines to ensure flexibility and uniform resistance. The conductors are insulated with a special grade of PVC on sophisticated co-extrusion lines. Outer sheath consists of highly abrasion resistant PVC compound impervious to grease oil and water etc.
Features of 3 Core Flat Cables for Submersible Pump Motors
Designed for heavy duty use
Exceptional long term performance
Excellent resistant to oils, chemicals, ozone & solvents
Excellent Impact Resistant
Excellent Weather Resistant
Performs & Looks like Vulcanize Rubber
Excellent Electrical Properties