We are the most preferred distributor, supplier for Submersible Flat Cable in India. Our offered products are designed such that they can be used for cabling even in constricted space with tough conditions. These are made with the high grade materials in compliance to the norms of the industry.
Their qualitative make with the most modern methodology, examining and verifying quality at every stage of the production. The finely stranded copper conductors of our Heavy duty cables have excellent flexibility as well as strength. The cables have excellent resistance to oils & grease, chemicals, impact & abrasion as well as weather.
Our cables are chosen for their excellent electrical properties. These are trusted and applied in industrial cabling, for agriculture as well as sewage pumping. Our Submersible Flat Cables are tested and confirmed for their quality and we offer them at very affordable prices.
Features of Flat Submersible Cables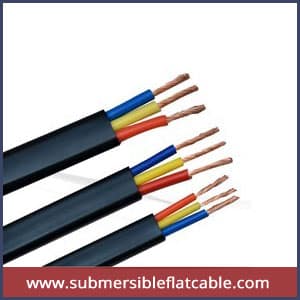 The cables are long lasting and high performing
Having the ability to resist moisture, grease and abrasion
Built with high quality wet electrical features
Sturdiness and highly efficiency
Temperature range – 40 degrees C to 105 degrees C
Posse's conductors with formulated PVC compounds